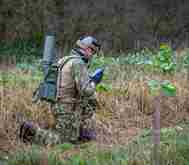 The Challenge
Surveillance support of military manoeuvre elements is crucial to the survivability of a team. Systems must be easy to operate on the move, provide minimal burden to the operator and afford commanders a high degree of confidence of accurate positional data and real time intelligence. To fulfil this requirement, we developed an Electronic Support (ES), system with lower Size, Weight and Power (SWaP) than our existing RESOLVE 3 Multi-Role, for convert tactical operations.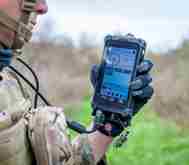 The Approach
We condensed and augmented our world-leading RESOLVE 3 Multi Role system into a lower SWaP form factor, allowing intimate on-the-march ES, and reducing soldier burden. Utilising ground-breaking technology and low-profile Human Machine Interfaces (HMIs), we created a surveillance and direction finding tool that integrates seamlessly with the latest operational planning tools, electronic support measures and post mission exploitation and reporting applications.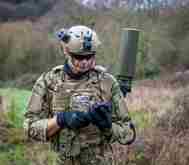 THE OUTCOME
RESOLVE Light reports real-time threat to life warnings and indications of enemy intent from both analogue and digital intercept. This intelligence is critical to the survivability of the team in contested electromagnetic environments and delivers tactical advantage to commanders. Networking nodes use open architectures to deliver instant reach-back to key decision makers, and share a common operating picture. Operated via our TACFIX software (via an Android tablet), RESOLVE Light is also fully integrated with our PREFIX and VIPER pre-mission planning and post-mission exploitation software platforms. Machine learning algorithms create constantly evolving threat libraries and threat assessment, designed to exploit open software standards and that allow maximum interoperability with NATO allies and inputs in wider intelligence analysis capabilities. RESOLVE Light is now a key enabler, collecting real-time mission critical intelligence, from the very front line of current operational deployments.