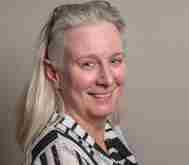 Roke meets
Kath
Kath works with our Central Government and UK Law Enforcement customers to protect the public. She's one of our long-serving Rokies, having worked for us for nearly 30 years, and her wealth of experience is invaluable in solving critical problems for our customers. We caught up with her to discuss how she's excelled in roles all over the business, how we understand our customers' missions and what she does to challenge herself when she's not working.
What did you do before joining Roke?
I joined Roke as a graduate in 1994, on my birthday! Previous to that I had worked as an Electronics Engineer for GEC through my university sponsorship. My key interests were in sensors and communications including innovating in optical fibre sensors and microwave communications.
What is a typical day like for you?
My day generally involves a lot of talking!
It's a fun and varied job, where I get to meet a mix of people from senior civil servants through to Police Analysts, industry partners and other Rokies. We seek to improve the UK's ability to respond to serious and organised crime, terrorism, online harms and crime in general.
I'm ultimately responsible for winning orders, but in reality my role requires me to act as a researcher, influencer, empath and innovator in order to understand what our clients and markets need and how Roke could bring benefits and solutions to bear. That is followed by the process-focused part of the job, going through qualifying, planning, bidding and winning a deliverable and profitable piece of work.
For me, I chose to apply to Roke because it combined the research, technology areas and customer base that really interested me. I accepted the job because of the people I met at the interview day and the behaviours and culture that was clearly very strong and aligned well to my preferred ways of working.
How do you and your team apply your skills to serve our customers?
Everything we work on has a strong focus on user requirements and benefits, whether it be user research, business analysis, stakeholder engagement or business/technical models and architecture. Our data collection, analysis and exploitation services exist to support those user needs and our innovations are directly identifying and targeting gaps in user capabilities. We seek to intimately understand our customers' mission to protect the UK's citizens, servants and capabilities.
What changes are coming up that you think will impact the needs of our customers and how can we help?
Some of the game changing technology advances provide strategic threats and opportunities to criminals and government alike. Our ability to understand the domain, the tech solutions and likely benefits positions us to advise and also create solutions that work with the opportunities to counter the threats. Examples include:
Maturing explainable AI and lowering technical skill required to implement AIOT - intelligent sensing (e.g. traffic control within the City of London)
Continued Government transition to Cloud
Adoption of 5g and high-bandwidth low-cost global communications
Increasing complexity of cyber security and exploitation
Growth in data volumes, data-lakes, siloes and services
Increased autonomy of drones and bots
Emerging compute platforms e.g. quantum
Encryption as an enabler for secure working
Hardware commoditisation and modularisation
How has Roke supported your career?
Roke helps you find what you're best at and also develop your wider skillset – we're never pigeon-holed into just one area of the business. I've been privileged to have several roles here, from techie to team lead, including Project Manager, Line Manager, Technology Strategist, in sales and a member of the business unit (BU) leadership team.
Support has come in many forms – not just in career development. Over my time here I've been afforded a generous period of time off for maternity leave, and even a wellbeing break. At all times I have felt valued and important to the company.
What's the best thing about working at Roke?
The people – hands down, followed by the tech of course! The breadth and depth of expertise here is second to none. From AI to image analytics, we have so many capabilities on offer that it often feels like we have multiple ways to solve a client problem!
What do you do to unwind when you're not working?
I'm always keeping busy when I'm not working, and recently I've enjoyed challenging myself by taking on escape rooms and quizzes. My main interests also include singing, cycling, gardening, sampling craft beers, and cookery.