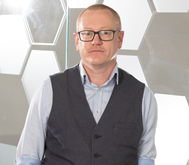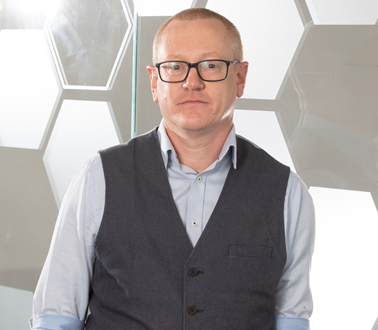 Roke meets
Toby
Toby is Head of Sales for our Futures business unit (BU). We caught up with him to chat about his two stints at Roke, how he works alongside our technical teams to ensure strategic delivery to our clients, and how we're growing the cyber skills of our current and future employees.
I work closely with our customers to understand more about their vision for the future and the bumps along the way that we can help overcome. I need to have a good enough grasp of the various skills and capabilities that Roke can bring to bear on their problems and match the two together in a way that works.
I'm also responsible for a lot of the internal coordination, planning and outcome settings for our strategic pushes, including access and operational cyber. I enjoy pulling together a lot of these capability strands across multiple projects to identify what skills we'll need across the business in the future to better serve our customers.
What is a typical day like for you?
Over the last 18 months, we've all learnt just how much we can do remotely, even when we're working on some of the sensitive projects that we have at Roke. I spend a good 60% of my day in Teams calls with Rokies and our customers. That may be checking in on some of our ongoing projects, making sure that everything's going to plan and desperately trying to leave the long screwdriver in the drawer! I also work with our Heads of Engineering and Heads of Profession planning some strategic investments and innovations.
It's actually my second time at Roke – I joined as a graduate engineer about 20 years ago, when the company was owned by Siemens. I cut my teeth in the world of telecoms standardisation, and always looked back on the company as a great place to work. When the chance to come back presented itself, I jumped at it.
There's a great atmosphere here. We're a people driven business, and really take our role in supporting and developing colleagues seriously. Roke is hugely responsive to the realities of life that we all have to face – something that's shone through in our response to COVID over the last 18 months.
And Roke is transforming. The recent acquisition of the Cubica business (Roke's first ever acquisition) is a great example of the change in scale and scope that I see around Roke. If you feel like you're a bit of a small cog in a massive machine in your current company, I'd really recommend you check out the various jobs that are open at the minute at Roke – everyone has a chance to make a difference here, and if you show ambition and a desire to do more, that will be absolutely recognised.
What did you do before joining Roke?
I graduated from University in 1997, and completed a masters degree before joining Roke as a Graduate engineer. I left to join Vodafone and also gained experience of working in the public sector, taking a role at Dstl before being approached to join Innovate UK. I was part of the group that set up the National Biofilms Innovation Centre at the University of Southampton. I managed and co-ordinated the bid process and industry engagement. This was when I began to focus on business development, which led to my current role at Roke.
How have you applied past experience to your career at Roke?
My engineering background helps because I understand the context in which our engineers are working. Being in technical roles for 10/15 years of my career, means I can pick up technology confidently and hold conversations with technical experts. I'm comfortable advising stakeholders on the right solutions for their complex problems before going to our technical teams for final recommendation. That said, there's plenty of incredible capability within Roke that I'm still learning to comprehend!
What changes are coming up that you think will impact the needs of our customers and how can we help?
The world is changing at a dramatic pace. Global power structures are shifting, the impact of climate change is being directly felt by many people and the speed of technology development shows no signs of slowing down. All of this contributes to an environment where there needs to be an increased focus on the safety and security of our structures and institutions. 
The integrated review published in March 2021 laid out the UK's response to this changing external environment, and Roke is using this, and our discussions with our customers to ensure we are a part of the solution. We're growing our skills base through our Cyber Launchpad programme and broader recruitment, we're increasing our footprint in the UK with the opening of our Manchester and Woking offices, and we're investing more and more strategically in our own science and technology innovation. 
What's the biggest problem in cyber security?
The general consensus across industry, government and academia is that we don't have enough people choosing cyber security as a career path. We need to attract and train people with the right skills to tackle cyber-criminals and other 'bad actors'. One of the ways Roke has responded to this is by setting up Cyber Launchpad, a dedicated programme for graduates and apprentices coming into Roke to give them the skills and tools that we and our customers need. It's supporting the growth of a talent pool of people in the UK who are working on these issues. We're reaching out to graduates from multiple disciplines including physicists, psychologists and software engineers to help them choose this as career path, and as a result we increase the country's resilience to cyber-attack.