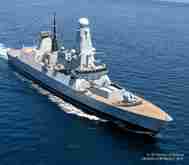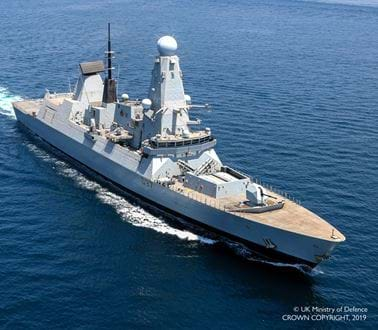 Roke will demonstrate its Artificial Intelligence (AI) threat monitoring system, STARTLE®, as part of the NATO At Sea Demonstration/Formidable Shield 2021 (ASD/FS-21) Navy exercise in May.
During the trial, Roke's AI team will be deployed on Type-45 and Type-23 Royal Navy ships to prove the capabilities of its autonomous threat monitoring system, STARTLE®. This eXplainable (X) AI architecture enables operators to monitor and rapidly react to threats across multiple sensor feeds. Key benefits include reducing operator fatigue associated with cognitive burden and maximising operational effectiveness.
Partnering with experts from the Defence Science and Technology Laboratory (Dstl), Roke will work alongside operators for CGI's SYCOIEA AI decision aid using the Royal Navy's Shared Infrastructure, a Combat Management System developed by BAE Systems, to assess the benefit of using AI and Machine Learning in a representative operational environment. The lessons learned will drive future STARTLE® enhancements and support the development of a deployable capability.
Exercise ASD/FS-21 will enable NATO warships to conduct live fire training in the Atlantic range, west of the Hebrides. Fifteen ships, more than 10 aircraft and ~3,000 military personnel representing the UK, Belgium, Denmark, France, Germany, Italy, the Netherlands, Norway, Spain, and the United States will be involved. The exercise will support allied interoperability and future technology exploitation in a live-fire joint integrated air and missile defence (IAMD) environment.
STARTLE® was also previously part of a successful sea trial with the Royal Navy undertaking air and surface threat detection in a maritime environment. In 2016, Perception, a previous version of STARTLE®, was trialled in a range of organisations, and was deployed by SERCO worldwide as a network security system.
Paul MacGregor, Managing Director of Roke commented:
"At Sea Demonstration/Formidable Shield 2021 presents an exciting opportunity to further prove STARTLE®'s capabilities in an operational environment. Roke has been at the forefront of developing and applying ground-breaking technologies to protect and augment our UK armed forces and its allies for over 60 years.
STARTLE® offers enhanced situational awareness in complex and pressurised environments. It can provide sustained information superiority, helping to ensure that our military are well-equipped to anticipate, prevent and respond to new and emerging threats and challenges."
Dstl's Military Advisor, Lt Cdr Terri Thompson, will be on board the Type 23 Frigate and said:
"Science is absolutely at the heart of this exercise, Dstl's world-leading expertise is helping to bring this application to where it is now. While on-board I'll be linking the engineers and scientists with the ships warfighting team, to showcase STARTLE®, and its benefits."